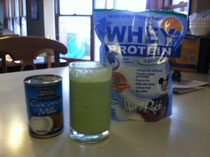 Smoothies just rock in the summer!  I am a huge believer in getting your nutrients the most convenient way and for this busy working mom who is not good about consistently getting her fruits and veggies, a smoothie just makes my life EASIER!  
I used to own a cheap blender and always thought people who loved smoothies were smoking something because my smoothies were just not that good, the ice never was blended in enough, the veggies were chunky, yuck!  I then happened to be at my favorite store, Costco, and the Vitamix man about ran me over excited to tell me all about this blender that did it all.  I was so fascinated with the power of the machine I bought it on the spot.  It was the best $ I have spent and my husband loves it too.  It incinerates your food!  I tried to make my sinful oreo shake right after I bought it and I like my oreo shakes chunky (oreos are my downfall, I like to drink my shake with big chunks of cookie).   I put it on high and it pulverized my poor cookies, no chunks!  I knew right then that my smoothies would be awesome and smooth and they sure are!
My favorite is pictured above.  It is a pineapple and mango smoothie with a handful of spinach, 2 tablespoons of coconut milk, 1/4 cup low sugar apple juice, and water to desired thickness.  The Vanilla Whey Protein Powder is also a rather new find and it is so awesome, Jay Robb Protein Powder.  I just love it (thanks Laura G. for the recommendation).  It is so tasty,  it is organic and the packaging is environmently friendly.  It fills you up for 3-4 hours which is perfect because I eat about 6 small meals per day.  
I recommend a smoothie either for breakfast to start the day off on the right foot or after a hard workout, my favorite time to have one.  In the summer there is nothing as refreshing as pineapple in my book and this smoothie recipe hits the spot everytime!  I am also guilty of having 2 per day in the summer, one for breakfast and one post workout!  They are so simple once you get the hang of it.  
Stay tuned for more smoothie recipes.