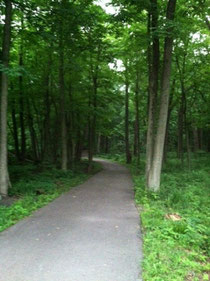 I always have the best of intentions when travelling back home to IL or anywhere for that matter.  I plan which trails I am going to run each day and how far and I  pack way too many workout clothes, multiple pairs of running shoes (road and trail shoes), and my water bottle carrier.   I plan it all out like I preach to my clients  and still it rarely turns out like I hope.  
In the case of IL where I am now for a family wedding I want to do it all, see my family, see friends, run my favorite bike trails, have a much needed date night with my husband and get a little rest since Grandma is around to watch the kids (terrible of me to admit:).  Given all that I want to do it is so easy to let exercise fall by the wayside.  I decided this trip I was going to commit and exercise everyday while here (Friday night - Tuesday morning).  The only way I am going to be successful is if I work out early in the morning.  I did it this morning, woke up at 4:40am (my body is so used to 4:45am wake up call for bootcamp now) and laid in bed until 5:30am which was a struggle.  I kept reminding myself that I am away from home so relax and rest, hard to do.  I was at the trail by 5:50am (picture above) and got my 45 min. run in.  Yeah!  We have a wedding this afternoon, my little cousin is getting married, and I know I will be off my eating plan so it felt so good to do something healthy this morning.  
My plan for this trip is as follows:
Friday night - drive the 6 hours so not much, walk the dog for 30 mins - CHECK!
Saturday morning - run 5miles - CHECK!
Sunday monring - run new natural area near Mom's house, believe it is 4-5 miles, and quick 10 minute bootcamp workout, walk dog for 30 mins.
Monday - walk dog 1 hour, bootcamp workout - 30 mins.
Tuesday - run 3 miles before we leave for MN
I thought I would share my favorite 10 minute body weight bootcamp to take on the road with you any time you travel.  This can be completed once or twice for a longer workout.  I plan to do this Sunday.  
Perform the following 10 exercises below for 1-minute each. Give yourself 5 seconds to transition to the next.
60 sec Sumo Jump Squats (toes point out, like a frog jump)
  5 sec Rest
60 sec Push-ups (full or modified)
  5 sec Rest
60 sec Burpees
  5 sec Rest
60 sec Curb or Box Jumps (can use stairs for this)
  5 sec Rest
60 sec Full Sit-ups
  5 sec Rest
60 sec Jump Lunges (or reverse lunges)
  5 sec Rest
60 sec 4 Push-ups into 8 Mountain Climbers with a Jump Up
   5 sec Rest
60 sec Tricep Dips (off the stairs or your couch)
  5 sec Rest
60 sec High Knees - knee comes higher than hip height
  5 sec Rest
60 sec Plank
  5 sec Rest
60 sec V Jacks 
Enjoy your weekend everyone!  I am always  going to plan ahead when traveling and I will always bring my huge bag of running gear, I would feel empty inside if I did not bring it, it is part of me.  I hope to remember how awesome it felt today to get my run over with and have the day to enjoy what is most important to me, my family!