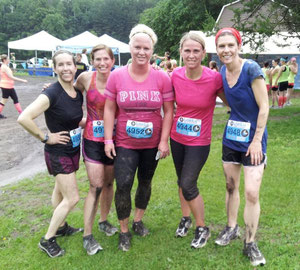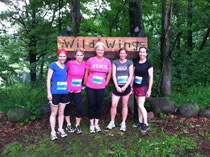 What fun I had this past weekend running the Lozilu 5K Women's Mud Run in Hugo!  6 of us from bootcamp ran the race (Jenny Hanlon, Jenny Hillstrom, Mary Gray, Julia Kraemer, Jamie Ekland, and myself).  
I/we learned a few things about mud runs that I thought would be fun to share (ladies, feel free to leave comments below to add to the list):
1.  Although we did not get stuck, a 4 wheel drive vehicle is helpful when parking in fields and we have a lot of rain!
2.  Wear running shorts, not capris or longer pants because you get weird things sticking to you from the mucky water you have to plunge through on the course.  They fall off your skin but stick to clothing so the less clothing the better.
3.  Get out in front of the wave because you do not have to wait in line for the obstacles.
4.  Photographers love these kind of races so wear a smile constantly because there are cameras hoping to catch you making a fool of yourself everywhere!
5.  Just accept that you will be going through water and mud that you would never go through if you were not in a race.  You will be grossed out a bit and maybe a bit worried about what may be in the waters but it is part of the excitement!  
6.  You will be climbing so do those pushups and lunges!  The strength in your upper body and glutes will help you pull & push yourself up and over!  Bootcamp class is perfect training for a mud/obstacle run.  
7.  Absolutely have a change of clothes, you will be soaked and caked with mud!
8.  Pace yourself from the get go.  The obstacles were not too hard in this race but you need to save energy for running through water, crawling through mud, and climbing.  It takes a different kind of energy you need.  Interval training is ideal training for races like this.  
9.  Trail shoes would have been ideal for this race as it was all trails and grass.
10.  Most of all, enjoy this experience!  You will have great stories to tell because it is different than other races.  I truly think that is why mud runs are so big right now.  They are exciting, different, and you have great stories to share!